OPUS Campers Participate in Benefit Concert!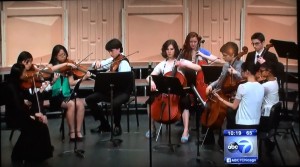 Bravo! OPUS campers Maxwell Lowery (Viola), Tolya Kuznetsov (cello), and Luc Waked (cello) support their Naperville North High School friend, 17-year-old Taylor Kroma, also an OPUS camper, a junior at Naperville North High School, by performing their music and sharing the music with the patients at Naperville's Edward Hospital through their Healing Arts Program.  Performing for the underserved, those in pain and/or anxiety, people with physical and/or mental disadvantage, is always a part of the entire OPUS program for young people to increase their awareness and the pleasure of social responsibility.
The Herald had a great article about the event – read it here.