Creative Music – Arts Connections Workshop
Every camper must choose an Arts Connections project to work on.  Senior Campers' Project choices include: A. Composition; B. Arranging; C. Electric Instruments; and D. Music Theory (new in 2020).  Junior Campers' Projects include: a. Composition; b. Arranging; c. Videography, or d. Creative Improvisation (new in 2020).
Campers perform their compositions at the Showcase on Friday. Faculty members and TAs will be available to perform compositions and music arrangements and to show campers' videos. We look forward to seeing and hearing your projects!
Project A/a: Composition
Compose a piece of music that is inspired by a work of visual art (painting, photo, sculpture) or a work of literary art (story, novel, poem).
Project B/b: Music Arranging
Arrange, transcribe or orchestrate a short piece of music for your instrument or small ensemble of available instruments. Students choose music (to be approved by the workshop faculty) and faculty help them create their own new version of the music.
Project C: Electric Instruments
Campers will try to create music as their project using electric instruments.
Project c: Videography
Interact musically with a painting, photo, sculpture, dancer, actor, etc. We will learn about creating textures, atmospheres, and explore all the possible ways of making sound with our instruments, so that we have a rich palette to use while collaborating with non-musician artists.
Project D: Music Theory (to be updated by Cathy Kuna)
To understand sound more: such as acoustics, ear training, pitch and frequency, harmonics and overtones. The objective is to learn Music Theory quickly and efficiently: elements of the score, pitch names, pitch classes, octaves, etc.  (to change on Jan. 18th by Cathy Kuna)
Project d: Creative Improvisation
Campers will get the creative juices flowing by improvising compositions on the spot by ear creating a story using text or not or by just making stuff up with friends. The musical result will never be the same twice.
Culture-Style Music Workshop – "Korean Drum Ensembles" by Brent Roman
Students will learn about the traditional folk traditions of Korean Pungmul (communal music and dance) & Samulnori (percussion quartet). Pungmul (Korean: 풍물; Hanja: 風物; IPA: [pʰuːŋmul]) is a Korean folk music tradition that includes drumming, dancing, and singing. They will be introduced to the various instruments used in these traditions, learn the specific techniques, and see how they are combined in a performance. After this introduction, students will be provided with traditional Korean drums (Janggu) and will get an opportunity for hands-on learning. The students will learn about the various parts of the instrument, the sticks and mallets used, the correct grips, and proper technique. They will then also learn the Pneumonic language system used for teaching this instrument, and they will practice certain select traditional rhythms.
About Brent Roman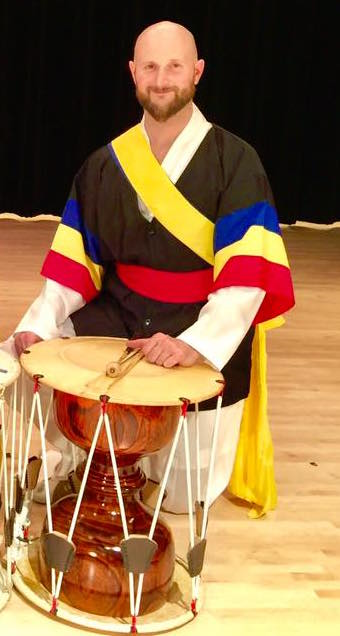 Brent Roman, multi-percussionist, composer, sound designer, instructor, and accompanist, is an avid Chicago-based professional free lance performing musician. Mr. Roman has performed throughout the US and abroad and has worked with a multitude of professional performing companies, including on Cirque Du Soleil's touring productions of "Alegria" and "Dralion" where he served as Drum Captain and Percussionist. Brent is a founding member and active performer of the Chicago circus-punk-gypsy marching band, Mucca Pazza, who have been featured on the Conan O'Brien show, Lalapalooza, Montreal Jazz Festival, and NPR's Tiny Desk. Brent has done musical educational outreach through C.A.P.E., Ravinia Outreach, Fulcrum Point Outreach, Urban Gateways, CYSO, Chicago Sinfonietta Outreach, and Old Town School of Folk Music Outreach programs. Brent has studied traditional Korean percussion through Global Pungmul Institute and in 2016 was selected as one of seventeen international candidates to participate in the National Gugak Workshop in Seoul and Jingo Korea. He currently works at New Trier High School as dance accompanist and resident sound designer, and runs several clubs including Chinese Music and Arts Club and Korean Drum Club. Brent continues to do educational outreach stateside and abroad, is a substitute for the Chicago Sinfonietta Orchestra, performs in a multitude of ensembles and freelances as a musical theatre musician in Chicago's Broadway scene.