Reminder: Upcoming OPUS Concerts!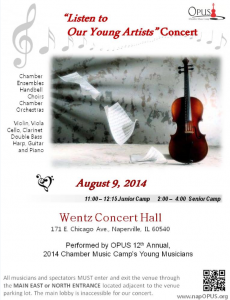 In addition to the Listen to Our Young Artists concert on the 9th, we have some additional events:
The OPUS Young Musicians will perform on Wednesday August 13, from 6:30 pm to 7:15 pm at Marianjoy Rehabilitation Hospital in Wheaton.
On Friday, August 15, from 7:00-9:00 pm at Naperville Community Concert Center behind the "Y".
We will also conduct a one-day "Never Too Late to Play" Chamber Music Workshop at North Central College on August 23rd. That concert is 3:00-5:00 pm in NCC's Koten Chapel.