We are Very Proud of Grace NG, a 4 year OPUS camper: Named to the Chicago Tribune Chicago Tribune 2014 All-State Academic Team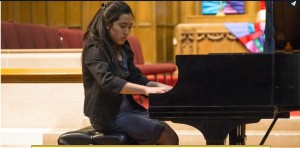 When Grace Ng began her freshman year at Naperville North High School, she felt like a "girl of the background" — one who smiled a lot and worked studiously, but spoke softly and was particularly awkward around boys.
To overcome her insecurity, Ng set lofty goals. She wanted to define herself as a uniquely accomplished person.
Nearly four years later, she is the top-ranked student in her class with a weighted 4.78 GPA on a 4.0 scale. She's also an accomplished pianist and violinist, a member of the school tennis team, a math team captain and an active volunteer at her church, among many other accomplishments and leadership positions.
Ng is fluent in the Cantonese and Mandarin dialects of Chinese and proficient in Spanish. And she has a green belt in kung fu.
"She fits more into one day than most people do in several days," said Jennifer Witt, Ng's counselor at Naperville North.
"It's obvious that she's brilliant," Witt said. But what makes her unique "is her true passion to learn and grow as not just an academic but as a person as well."
Ng spent the past few years thinking hard about how to define a person's worth and significance. She sought out family and friends to discuss the question, concluding that "my worth is not dependent on the length of my resume or some arbitrary measure of success, but is justified simply by my position as a friend, a daughter, a student, a citizen of this world."
"High school is definitely a growing time," Ng said in an interview this month. "A lot of what changed the way I thought of myself was from the people I got to meet in high school. One of the things that I'll remember best about high school is the friends and the teachers that I've gotten to know."
Ng will attend Stanford University. She is considering studying bioengineering and piano performance.
By Kim Geiger – Chicago Tribune – View the original article here.