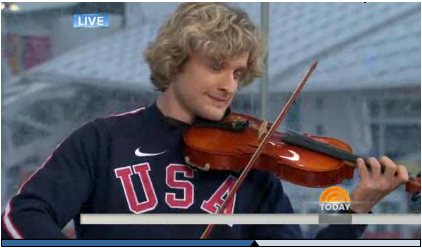 Gold Medalist Charlie White breaks out his violin on The Today Show during the 2014 Sochi Winter Olympics on Tuesday morning (February 18) in Sochi, Russia (watch it here).
The 26-year-old ice dancer, who just won the gold medal in ice dance with partner Meryl Davis, honored a promise he made with Savannah Guthrie that he'd play violin if he took home the gold.
After his impromptu performance, Charlie shared: "I think I was more nervous for that. It's been a solid three years since I've played the violin so I'm just honored that it could be for you guys."
"I felt like we had done everything we could from the beginning of this competition, in practice, team event, this event. And 17 years of hard work was justified. To come away with a gold medal is amazing," Charlie shared in a press conference earlier about their win.